Main information:
Information for visitors
Current information / Coronavirus
For a visit to our sights, the 3G rule applies if the 7-day incidence determined by the competent district administration authority is above 35, i.e. all visitors must either be
vaccinated against Covid-19
(with a vaccine authorised in the EU),

recovered from Covid-19 or

tested negative.
Proof of a negative PCR test (maximum 48 hours old) or rapid antigen tests / self-tests under supervision (maximum 24 hours old) must be BROUGHT ALONG.
No tests will be offered or proof issued on site!
Children up to their sixth birthday, pupils who are subject to regular testing as part of their school attendance and children not yet enrolled in school are exempt from compulsory testing.
You will need to bring appropriate proof (written or electronic).
Here you will find further information and FAQ.
---
Currently there are no cloakrooms or lockers available.
The palace chapel cannot be visited until further notice.
---
Information for groups
Group visits (including school classes etc.) are currently only possible as follows:
Nymphenburg Palace/ Marstallmuseum: maximum 5 people + 1 tour guide
Palace Park: maximum 15 people + 1 tour guide

Opening hours and guided tours
Opening hours
Public holidays: All objects at the Nymphenburg palace complex are closed on 1 January, Shrove Tuesday and 24 / 25 / 31 December.
Nymphenburg Palace, Marstallmuseum with Museum of Nymphenburg Porcelain
April to 15 October: daily 9 am-6 pm
16 October to March: daily 10 am-4 pm
Palace Chapel
April to 15 October: daily 9 am-6 pm
Entrance from the cour d'honneur into the second northern pavilion
Park Palaces (Amalienburg, Badenburg, Magdalenenklause)
April to 15 October: daily 9 am-6 pm
16 October to March: closed
To protect visitors from COVID-19, the Pagodenburg must remain closed until further notice.
Last entry to all the buildings is 20 minutes before the stated closing time.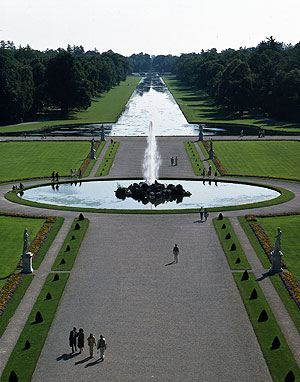 Palace Park (Opening hours of the main gate)
January-March, November, December: 6 am-6 pm
April and October: 6 am-8 pm
May-September: 6 am-9.30 pm
The other park gates will be closed half an hour earlier.
The fountains usually run from Easter to mid-October from 10 am to noon and from 2 pm to 4 pm.
The historical pump systems in the park's pump houses (Green Pump House in the park and Johannis Pump House in the north wing of the palace) are open daily from 10 am to 4 pm from Easter to the beginning of October.
From April to mid-October the exhibition "Friedrich Ludwig von Sckell and Nymphenburg" is on display in the Geranium House daily from 9 am to 6 pm (free).
---
Guided tours / audio guide
There are no regular guided tours in the Nymphenburg palace complex, but in Nymphenburg Palace you can make use of our audio guide, which is available in German, English, Italian, French, Spanish, Russian, Chinese (Mandarin) and Japanese (charge: 3.50 euros; for groups of 15 people or more: 2.50 euros per person). We advise groups to contact our local office and book the required number of audio guides in advance.
It is also possible to book special guided tours in English for groups.
---
The app »Nymphenburg Park«
The app »Nymphenburg Park« is your companion to discover this historical park in Munich. This app includes historical information about 23 selected stations, audio documents, pictures and films about Nymphenburg Palace Park. All the texts in the app are also available in audio form.
The smartphone app is available in German and English and can be downloaded on Google Play Store and on iTunes App Store. The app is free of charge.