Main information:
Information for visitors
Opening hours
The restoration work in the castle is making progress.
The Queen's study (Room 16) and the adjoining small lady-in-waiting's chamber (Room 17) in the Southern Pavilion of Nymphenburg Palace will unfortunately have to remain closed to visitors until mid-2020 due to restoration work.
Due to the ongoing restoration work in the Salon / King Ludwig I's Gallery of Beauties (Room 15), the 36 paintings are currently being presented in the adjacent Small Gallery (Room 18). Individual paintings may be temporarily removed for restoration.
The portrait of Lola Montez and two other beauties can be seen from 5.12.2019 to 1.3.2020 in the exhibition "Ludwig, Lola und Legenden – Schönheiten zu Gast im Schloss" in Johannisburg Palace in Aschaffenburg.
We ask for your understanding for the restrictions.
Public holidays: All objects at the Nymphenburg palace complex are closed on 1 January, Shrove Tuesday and 24 / 25 / 31 December.
Nymphenburg Palace, Marstallmuseum with Museum of Nymphenburg Porcelain
April to 15 October: daily 9 am-6 pm
16 October to March: daily 10 am-4 pm
Palace Chapel
April to 15 October: daily 9 am-6 pm
Entrance from the cour d'honneur into the second northern pavilion
Park Palaces (Amalienburg, Badenburg, Pagodenburg, Magdalenenklause)
April to 15 October: daily 9 am-6 pm
16 October to March: closed
Last entry to all the buildings is 20 minutes before the stated closing time.
Guided tours
There are no regular guided tours in the Nymphenburg palace complex, but in Nymphenburg Palace you can make use of our audio guide, which is available in German, English, Italian, French, Spanish, Russian, Chinese (Mandarin) and Japanese (charge: 3.50 euros; for groups of 15 people or more: 2.50 euros per person). We advise groups to contact our local office and book the required number of audio guides in advance.
It is also possible to book special guided tours in English for groups.
---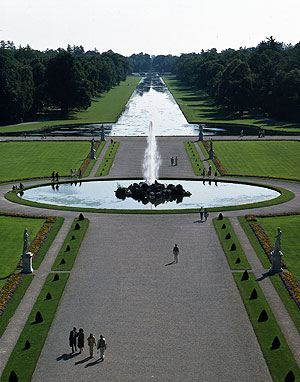 Nymphenburg Palace Park
Opening times of the main gate
January-March, November, December: 6 am-6 pm
April and October: 6 am-8 pm
May-September: 6 am-9.30 pm
The other park gates will be closed half an hour earlier.
The fountains usually run from Easter to mid-October from 10 am to noon and from 2 pm to 4 pm.
The historical pump systems in the park's pump houses (Green Pump House in the Little Village and Johannis Pump House in the north wing of the palace) are open daily from 10 am to 4 pm from Easter to the beginning of October.
From April to mid-October the exhibition "Friedrich Ludwig von Sckell and Nymphenburg" is on display in the Geranium House daily from 9am to 6pm. The admission is free.
---
The app »Nymphenburg Park«
The app »Nymphenburg Park« is your companion to discover this historical park in Munich. This app includes historical information about 23 selected stations, audio documents, pictures and films about Nymphenburg Palace Park. All the texts in the app are also available in audio form.
The smartphone app is available in German and English and can be downloaded on Google Play Store and on iTunes App Store. The app is free of charge.
Further information about the app »Nymphenburg Park«
| top |